Characteristics of Plastic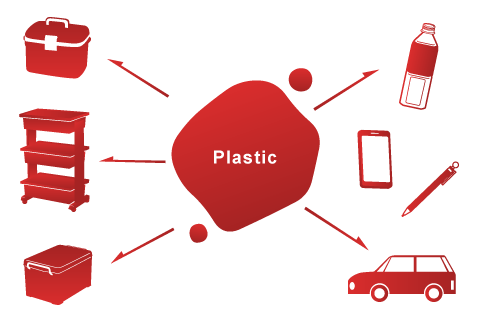 When you think of plastic, what comes to mind first? PET bottles, cell phones, mechanical pencils, cars… Many of the objects that we use in our everyday lives are made of plastic.
The main ingredient of plastic is oil. However, plastic cannot be made simply from oil; it must undergo several stages of processing before it can truly be called plastic. Only when it reaches this stage, can the base plastic material be molded and further processed into a useful plastic product.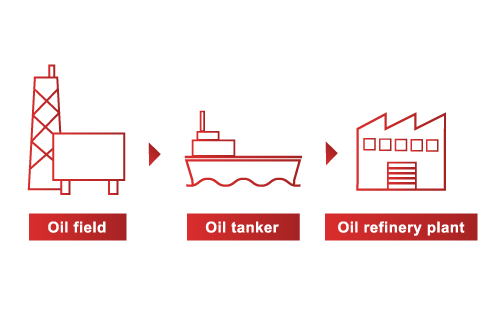 From oil field to oil refinery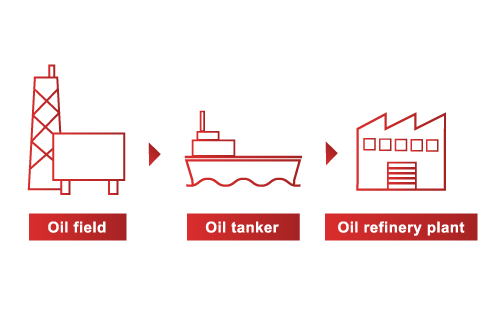 Numerous impurities are found in crude oil, which is the dark, viscous oil collected directly from oils fields. It is moved by oil tanker to the oil refinery.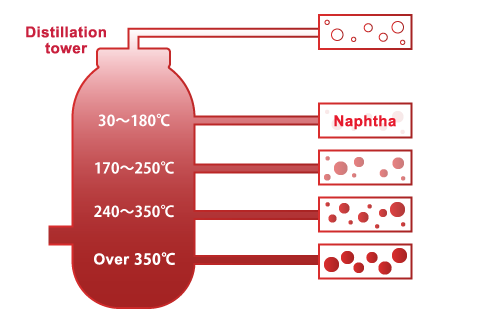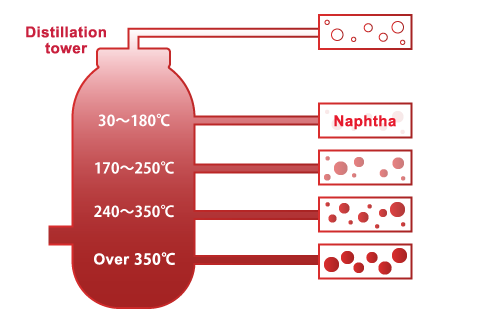 Refined crude oil is heated to over 350℃ within a distillation tower. By taking advantage of the different boiling points of the various substances within the refined crude oil, the oil is further separated into different types of oil- based products (fractions). This process is called fractional distillation. The substance which later becomes plastic is called naphtha, which has a boiling point of between 30- 180℃.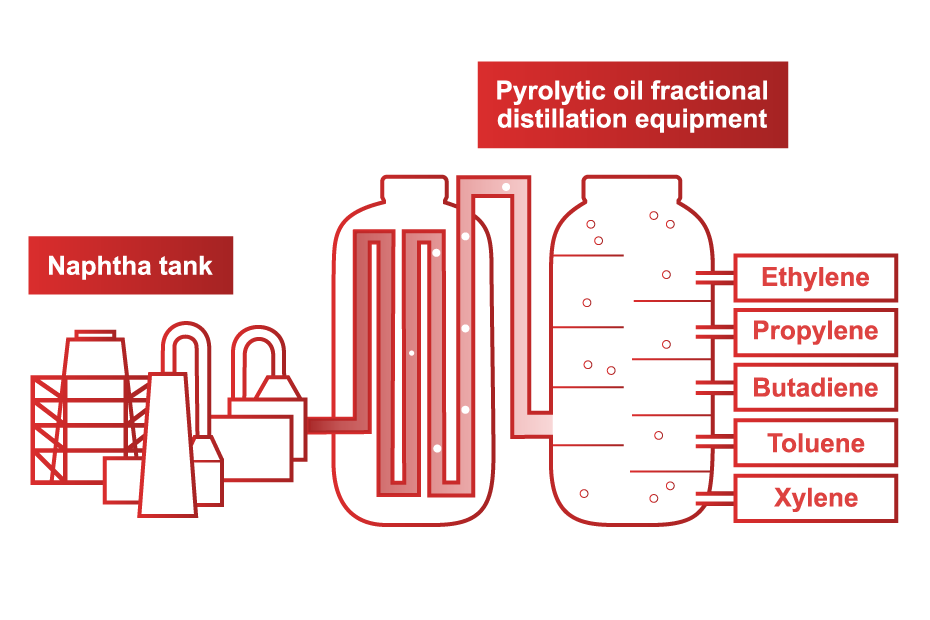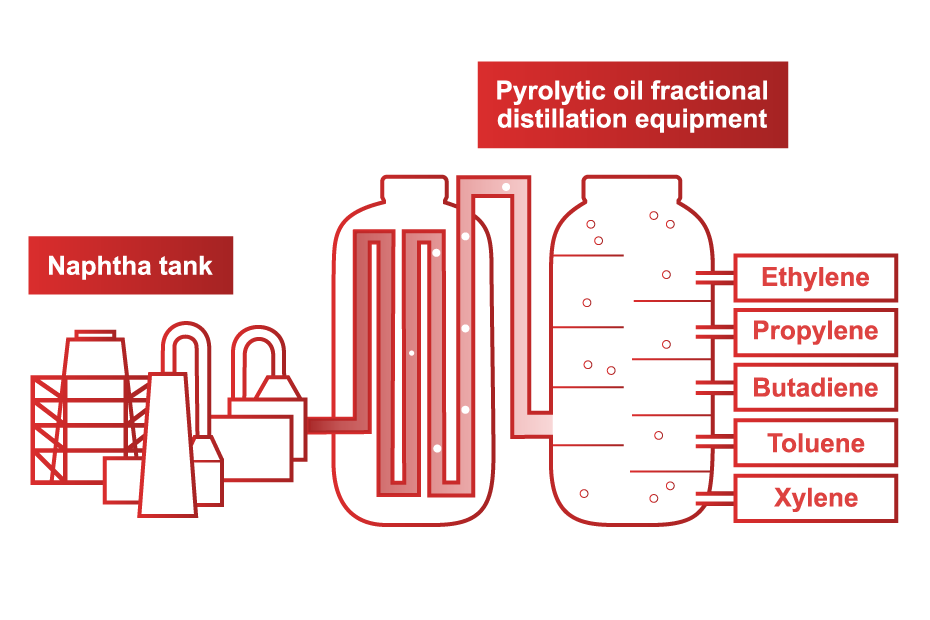 The naphtha is moved to a cracking plant, where it is conducted through a distillation tower that reaches 800℃. At this harsh temperature, naphtha undergoes thermal cracking and becomes a vapor. This vapor is further distilled until the heavier substances in the vapor separate from the lightweight subtances. These substances, based on their weight, become what we commonly know as petrochemicals. Ethylene and propylene are some of the more commonly known petrochemicals.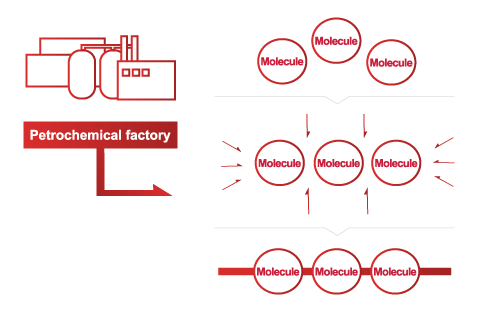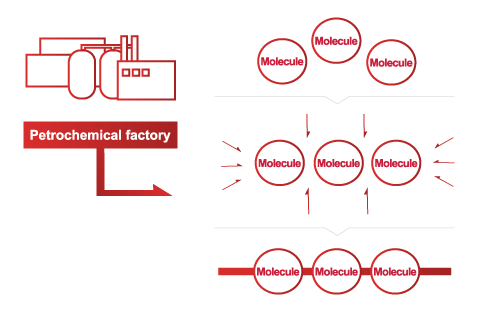 Depending on the substances in the petrochemical and the type of raw material to be made, the necessary petrochemical is brought to a petrochemical derivative factory. Here, the petrochemical undergoes further processing called polymerization. Polymerization is a chemical process which links the molecules of the petrochemical together. It is through this process, that petrochemical derivatives such as polypropylene and polyethylene are formed.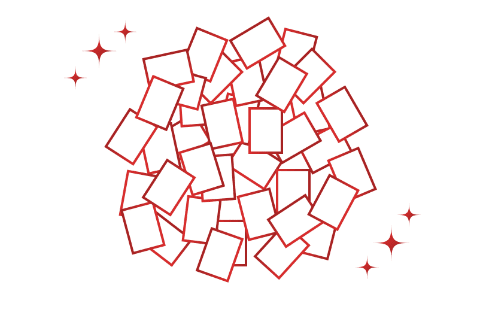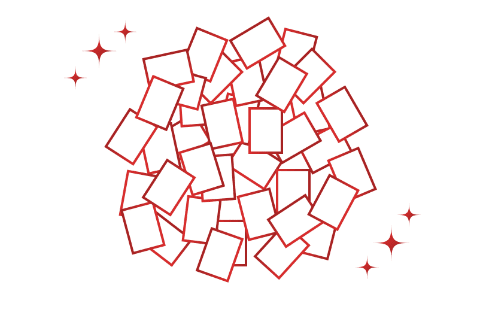 To make the plastic raw material easier to carry and process, they are broken in 3-5mm pieces called pellets or nurdles. These pellets are what are used to make the plastic products we use in our everyday lives.
Although we use the word plastic as a catch- all word, there are numerous different types of plastics with equally varying physical properties. We can roughly divide the different types of plastics into 2 main categories; thermoplastics and thermosetting plastics.
Thermoplastic
This is what JEJ Astage uses!
With the application of heat, this type of plastic becomes soft and malliable, and holds its molded form when cooled. This type of plastic can be recycled. If we were to compare this type of plastic to food, we could say it is similar to cheese or chocolate, which melt when heated and solidify when cooled.
Thermosetting plastic
This type of plastic, which is usually a soft solid or a liquid at first, will harden with the application of heat. If heat is applied again, it cannot be remolded or return to its original form. This type of plastic is frequently used to make products that must resist heat or chemicals. If we were to compare this type of plastic to food, we could say it is similar to eggs or cookies, which solidify when heated.
Main characteristics of plastic used in JEJ Astage goods
JEJ Astage utilizes thermoplastics in the manufacture of our products. There are numerous types of thermoplastics. You have likely heard of ones such as PP (polypropylene), PE (polyethylene), ABS resin, acryl, and PC (polycarbonate) to name a few. JEJ Astage utilizes a variety of these thermoplastics. We select which type of thermoplastic to use after considering each type's strengths and weaknesses, as well as the final product's place and frequency of use."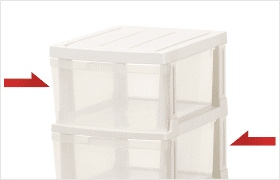 PP (Polypropylene)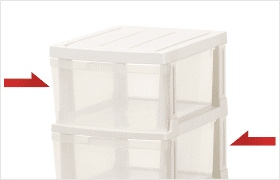 With its excellent flexibility, heat resistance and mechanical strength, the majority of JEJ Astage products are made from this material. This is often used to make drawers and frames.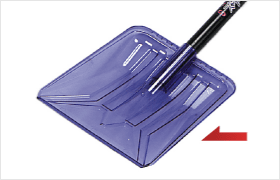 PC (Polycarbonate)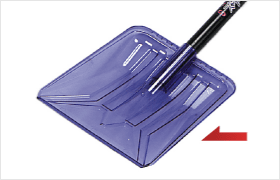 With its high clarity and strength against mechanical shock, this material is frequently used in products intended for outdoor use, such as snow shovels.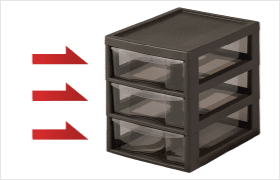 PS (Polystyrene)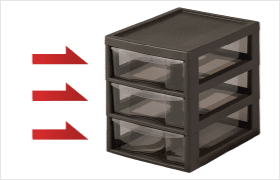 General purpose polystyrene (PS-GPPS) is known for its light weight and high clarity, so it is often used for products that will receive frequent use. We often use this material to make drawers for desktop file and letter cases. High impact polystyene (PS-HIPS) is strong against impact and shock, so we often use this material for products that must bear heavy weights.
Do you know how the plastic products that surround us are made? While there are numerous methods, injection molding, the process used by JEJ Astage, is arguably the most popular one. We will explain the process simply using chocolate as an example.
3 components necessary for injection molding
Raw material

Mold

Injection molding machine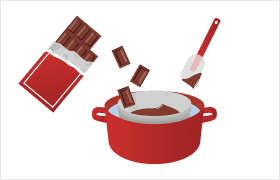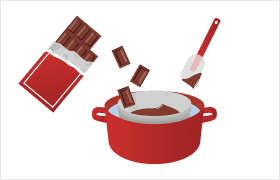 The plastic pellets are heated to between 200- 300℃, and are melted into a viscous liquid.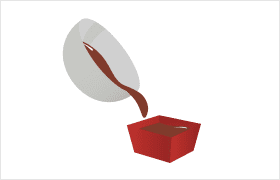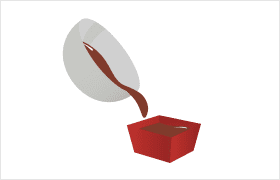 Via pressure from the injector, the melted raw materials are injected into the mold.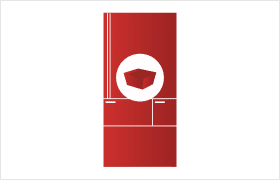 Solidification (Holding pressure/cooling)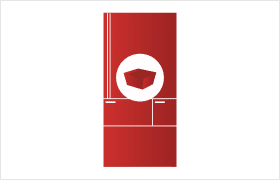 Until the raw materials have solidified, the mold is held shut for anywhere from a few seconds to a few minutes, and the raw materials are allowed to cool and solidify.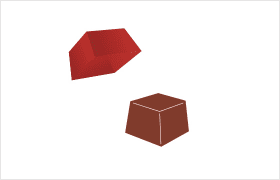 Retrieval (Opening of the mold/retrieval)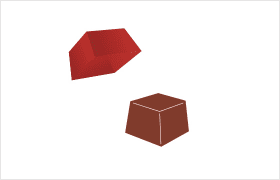 Once the raw materials have solidified, the mold is opened and the molded part is retrieved. The process is now complete!