Planning and Development Power
By selecting and utilizing new technology and the appropriate materials, we design and develop products that fit the needs of society
In order to generate the greatest level of customer satifaction, JEJ Astage continues to proactively plan and develop original products. From the birth of the initial product concept, JEJ Astage produces the product from start to finish, utilizing 3D CAD, 3D printing, mold flow analysis software, and more. We have a strong reputation in regards to the speed of our product development, as well as our ability to create products that fulfill our customers' wishes.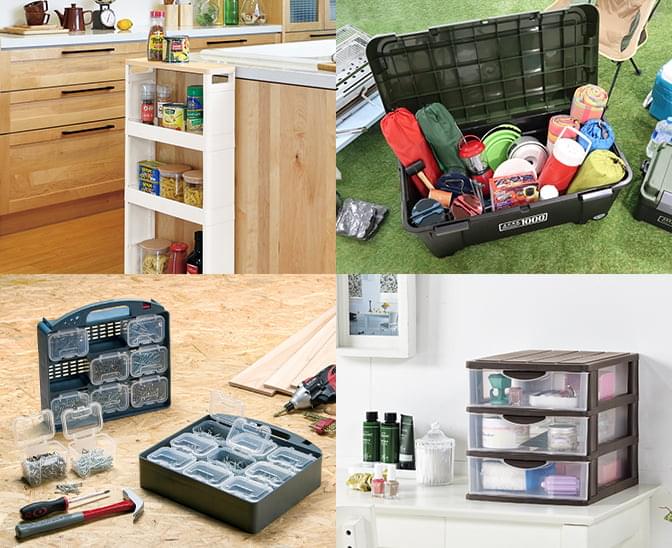 With a wide variety of products to choose from, we make selecting your next hit product a joy.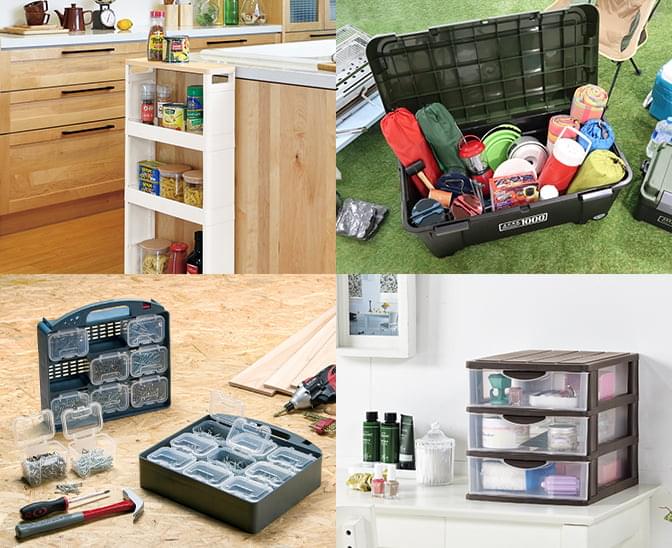 We pride ourselves on having a variety of products to meet virtually any need. From low- cost, price appealing products to high- spec, high quality goods, we are continously growing and developing our product catalog.
Capacity and Production Power
Including small lot, short lead time orders, we can produce our customers' goods within a timeframe that meets their needs.
JEJ Astage is often among the first in the domestic industry to introduce and invest in new technologies and equipment. For example, reduction of energy use via IOT, automation of various manufacturing processes, selection of injection molding machines to allow simultaneous production of parts for a single product... by not staying locked into old ideas or ways of thinking, we implement new technologies based on their merits and actual results. Via these means, we can positively affect production efficiency and provide great quality products at a low price to our valued customers.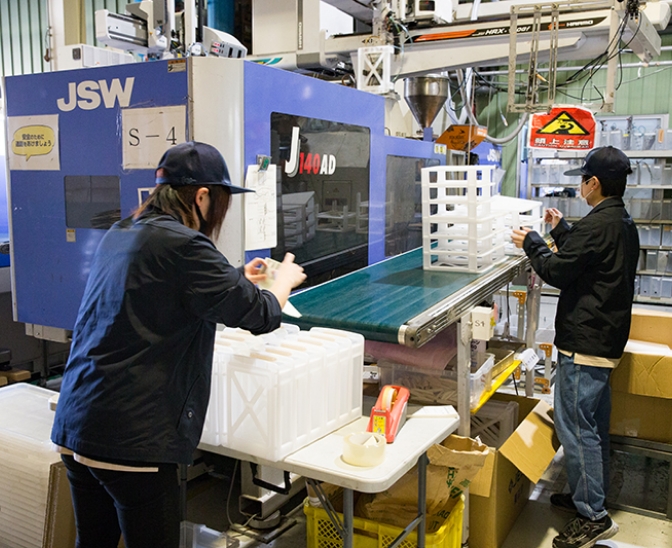 Providing you with Made in Japan quality.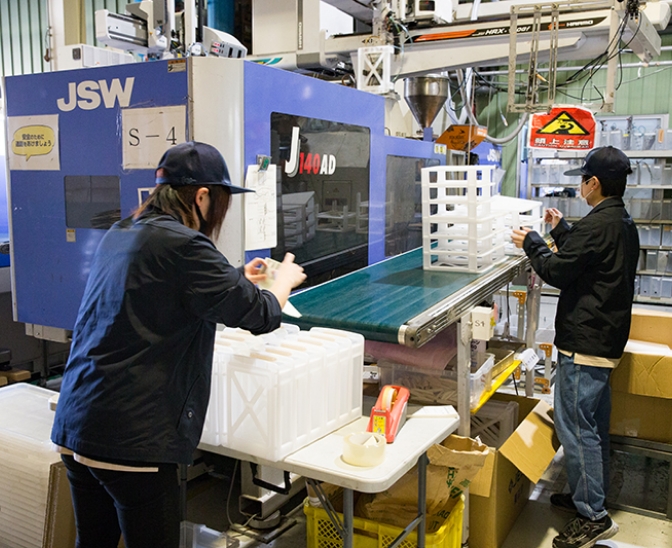 Despite the rise of foreign- made goods, JEJ Astage proudly manufactures and packages its products in Japan. The vast majority of our plastic products are made here in one of our 5 factories.We perform strict testing and inspection of products before shipment, assuring that only the best quality items are delivered to our customers. Our products are highly regarded even at international trade shows such as Ambiente in Germany and the International Home and Housewares Show in Chicago for not only their high quality, but their unique designs.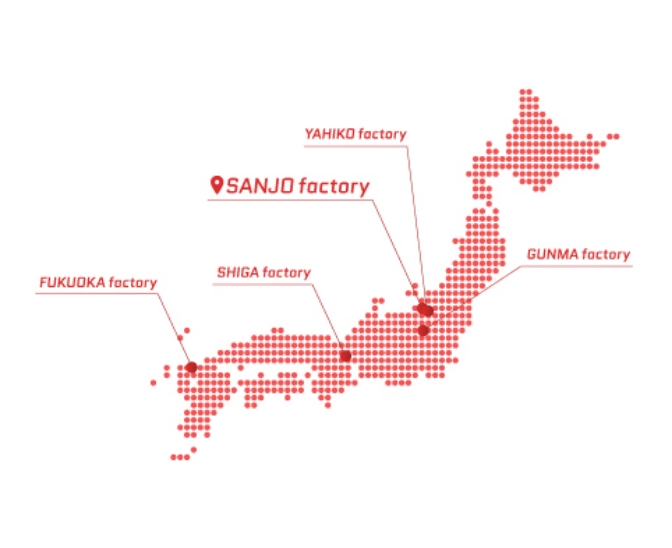 Location of Factory Sites
5 factory sites located across Japan allow for smooth, flawless production system.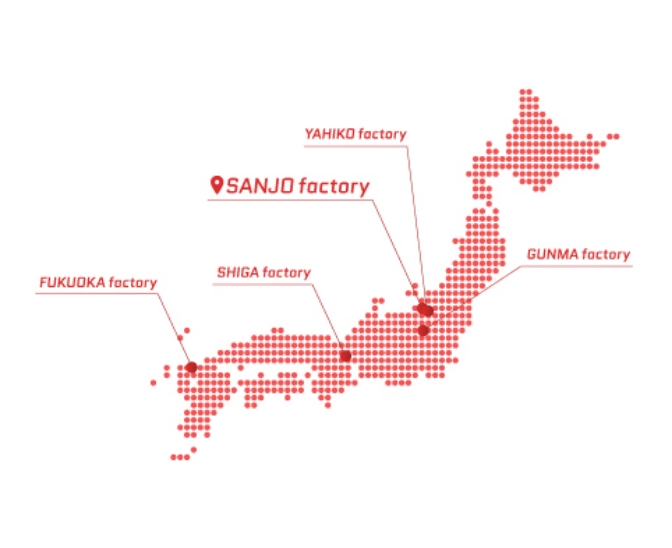 In addition to our headquarters factory in Sanjo, we have 4 other factory sites for a total of 5 production locations across Japan. Having our production points strategically arranged across Japan contributes to our expansive production capacity, the reduction of land transport costs, natural disaster risk mitigation, and shorter lead times. Our production management system, which spans across all 5 locations, allows us to keep tabs on production status and management in real time.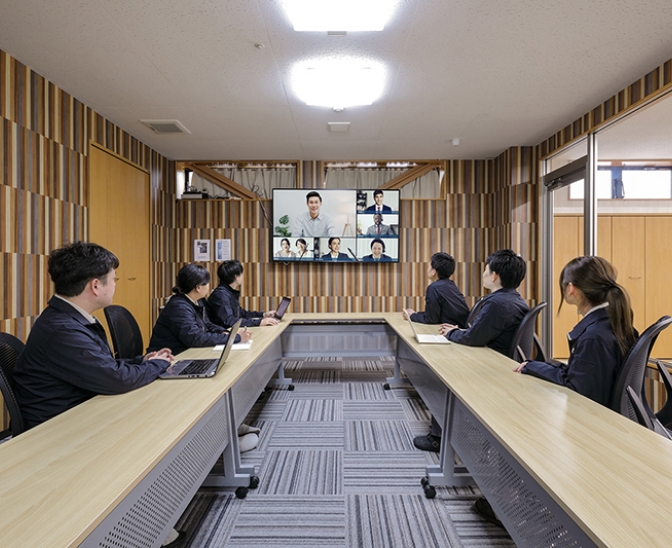 Speedy information sharing
Introduction of internet meeting system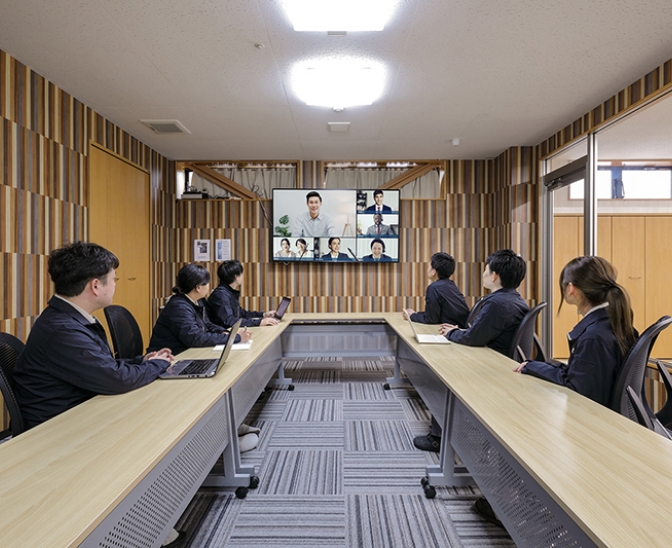 From even before online meeting systems became commonplace, JEJ Astage introduced an intranet meeting system that could be utilized between multiple factory locations. By providing a place to share valuable information on production technology, product quality, and more among factory locations, we have strengthened cooperation between locations. This has led to quicker response times to questions or problems, along with overall speedier information sharing, and has contributed to the establishment of a rock- solid production system.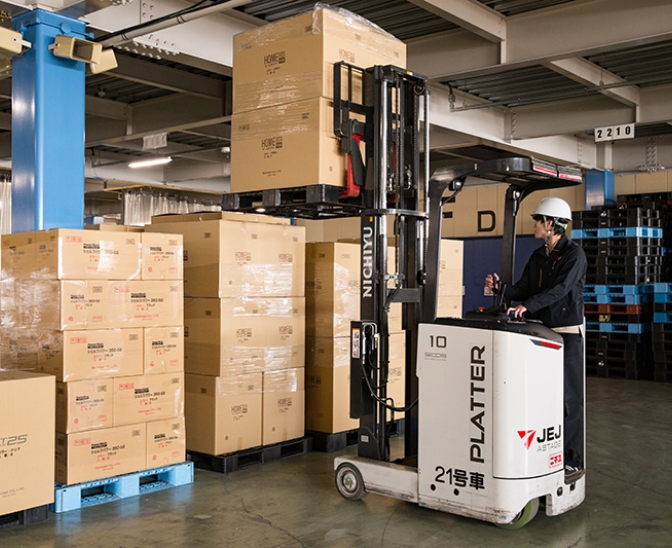 Packaging and delivery enhancement
The realization of land transport cost reductions and increased transport efficiency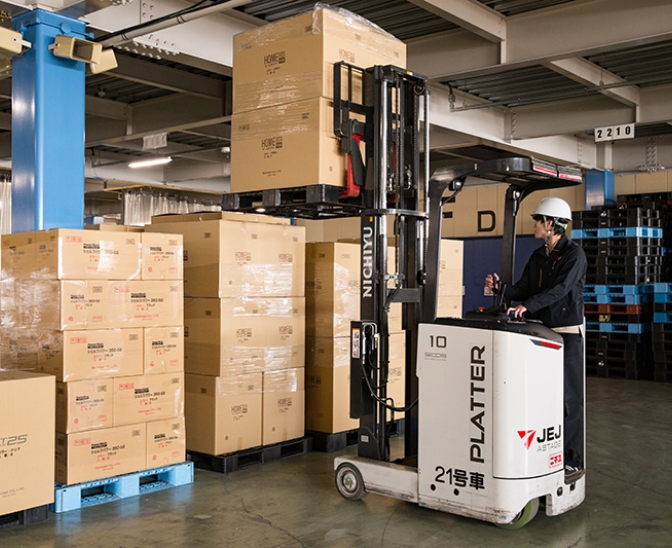 We introduced an automated packaging system that allows us to create boxes that suit each product's dimensions perfectly. This has allowed us to implement cost saving measures by reducing the need for cushioning and other extra materials, along with speeding up the packaging process itself. The customized boxes also allow us to ship products at sizes and quantities that are efficient to handle and ship.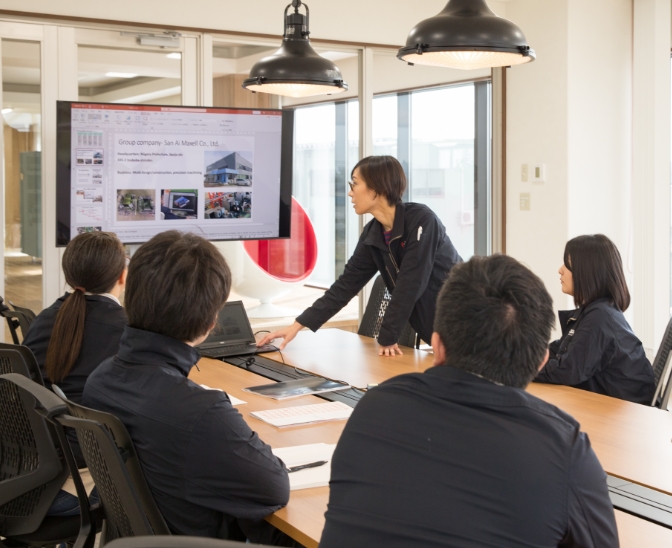 Creative and versatile staff
Capture the market needs by thinking outside the box.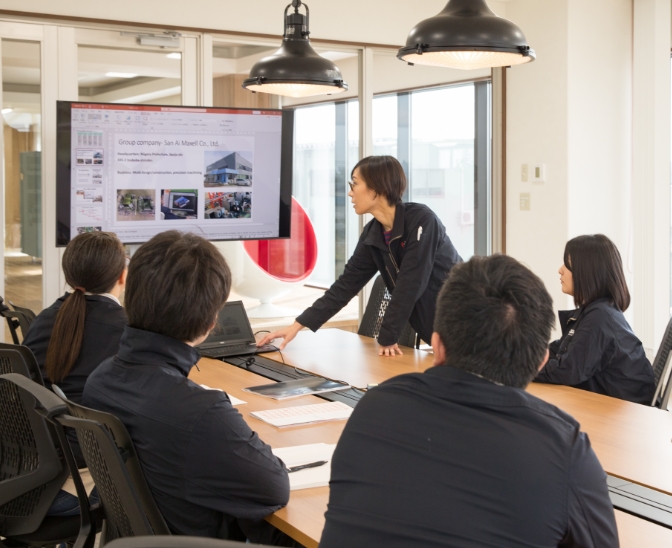 One of JEJ Astage's unique points as a company is the variety in our employee demographic relative to our industry type. For example, we have a significant number of female workers in their 20's, working both on the factory floor and in the office. It is because of our employees' great strengths and creativity that JEJ Astage is able to grasp market needs and thoroughly understand market trends. As over 80% of those who purchase our goods are women, listening to and implementing their opinion in the product development process is a vital necessity.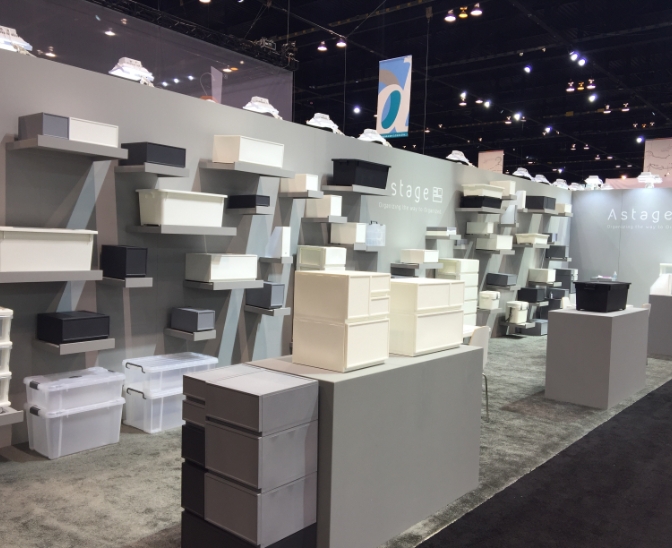 Expansion of Global Business
Becoming the gateway to the world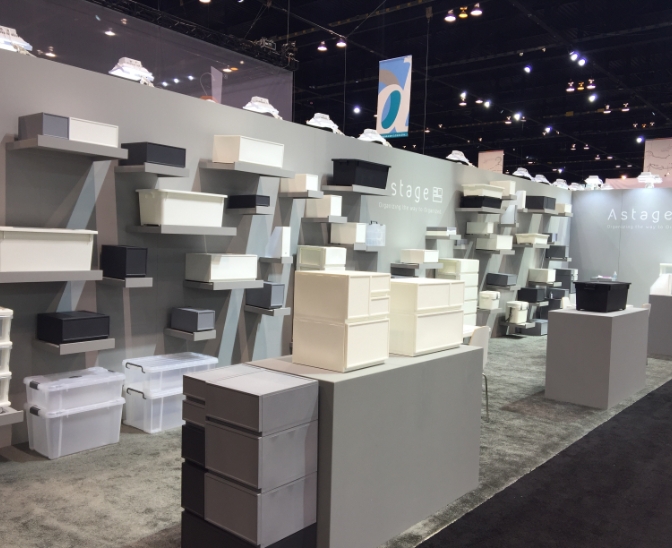 From Japan to the world, and the world to Japan, we are connected with the global network of business. By observing international market and trends, we create our own global standard, which we then distribute to the world via our products. We closely follow and comply with all related laws and regulations, and conduct suitable import and export customs procedures as required."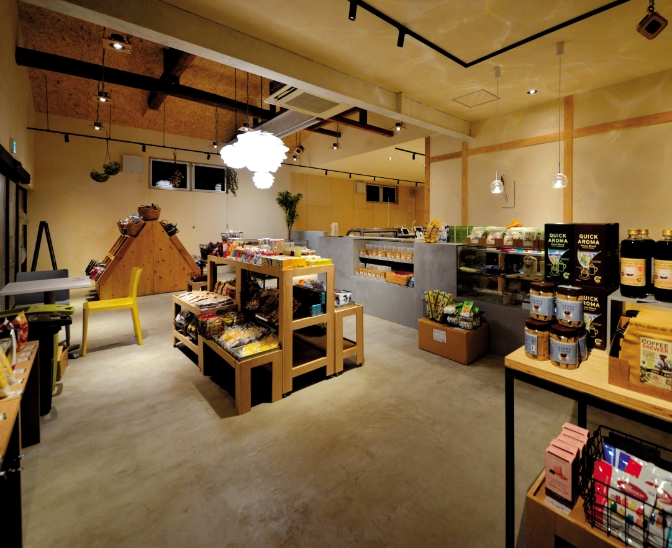 Generation of diverse new businesses
Never satisfied with the status quo, we are always pushing forward and entering into new markets.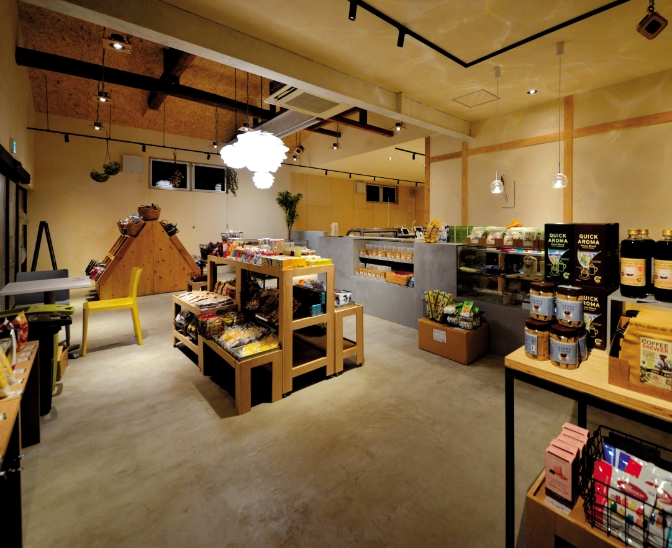 One of JEJ Astage's business strategies is the generation of diverse new businesses, which has become a necessity to keep pace in these everchanging times. The results of this strategy include our Sports Business outre, Café and Food businesses en, KOREIL, ciracasi, and AMANE, as well our Creative Product business tasca4D.The development of new business not only becomes the root of our growth as a company, but also becomes a source of creative synergy, which allows us to contribute to the satifaction and happiness of our customers and employees.